Taped at The Junction in San Antonio, TX on 1/9

Southwest Championship Wrestling airing on Saturday 1/14 in local markets

-Show intro-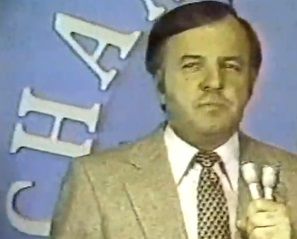 Steve Stack:Welcome to another edition of the most exciting hour in all of professional wrestling, Southwest Championship Wrestling! Here on the program today we're going to have a rematch of the Southwest Television Title match that was ruined last week as Ron Starr will once again take on the champion Roy Lee Welch and hopefully this week it won't be ruined by any of Sheik Adnan's goons. But before we get to anything else there is a lot of news coming out of last Sunday night's card at the HemisFair Arena as there was not one but TWO title changes involving the Southwest Heavyweight Title. We're going to be showing video highlights of the action later on in the hour but right now I'll just inform you that in the opening match on the card, David Von Erich defeated Tully Blanchard to become the Southwest Champion only to then lose the title to Mr. Saito in the main event thanks to some help from Tully Blanchard and Sunshine. Like I said, we'll be looking at the footage of those events later on in the hour but in other news from Sunday night, 'Rugged' Ron Starr and 'Hacksaw' Jim Duggan were victorious over the team of The Wild Bills but we've gotten word that Sheik Adnan has already found another team to send after them this Sunday night. We'll be talking to Jim Duggan & Ron Starr about that later on in the hour as well but right now we've got to take a commercial break but don't go away because when we come back we're going to talk El Gran Apollo the man who will be receiving a Southwest Heavyweight Title shot this Sunday night against the new champion Mr. Saito! We'll be right back!
 
-First commercial break-
 


 
Steve Stack: We're back on Southwest Championship Wrestling and with me now is the #1 contender for the Southwest Heavyweight Title: El Gran Apollo! Apollo we know that you are capable of defeating Mr. Saito because before Mr. Saito won the title last Sunday night he had to face you in a match in which you were victorious. What are your thoughts about facing him again this Sunday night, now with the stakes much higher as the Southwest Heavyweight Title will be at stake?
 
El Gran Apollo: I glad I have the match with Saito this week not just to be the champion but because how he attack me after the match. He did everything to me in the match but he can't keep me down and I win. So after he attacks me and tries to hurt me. But I ok Steve Stack and this time when I wrestle him I can take from him the Southwest Title and make happy all my people who will have a champion to be proud of.
 
Steve Stack: It seems like 1984 is certainly shaping up to be your year, you defeated Jose Lothario and seemingly sent him out of the Southwest area. You took everything Saito had to dish out, including kicking out of his Saito Suplex and defeated him and now you've got a chance to become the Southwest Heavyweight Champion all before the month of January is even through!
 
El Gran Apollo: Is true Steve Stack, 1984 is good year but not just for me, for all my people because I am doing everything for them. I want them to be there for me Sunday night and when I win the Southwest Title we can all celebrate together. Para mis hinches, te amo, gracias por su apoyo y prometo hacerte sentir orgulloso! Gracias!
 
El Gran Apollo leaves the interview area and The Fabulous Ones come in
 


 
Steve Stack: Now let me welcome in two men who also have a big match this Sunday night. Gentlemen the last two weeks at the HemisFair Arena you've been involved in matches with The Assassins that have lasted last than a minute each time as both you and The Assassins have quickly been disqualified for attack the other with one of the Southwest Tag Team belts. Stanley Blackburn has decided that this week he's going to avoid that problem of disqualifications by making this week's match a Texas Tornado Street Fight! What are your thoughts about having to face a team like The Assassins, who've made it very clear they intend to injure you, in such a dangerous type of match?
 
Steve Keirn: What do we think about facing The Assassins in a Texas Tornado Street Fight? We love it! There isn't a tag team in all of wrestling who is better in a Street Fight than The Fabulous Ones!
 
Stan Lane: When we wrestle The Assassins it's not like we aren't already prepared for a situation where anything goes, they don't care about the rules and they don't care about using any kind of weapon they can find. Assassin #2 always has something ready to load into his boot anyway so it's not like them being able to use chairs, boards, chains or whatever else is going to be all that different from what we usually have to deal with when it comes to The Assassins.
 
Steve Stack: Well I can see your point there but this time if The Assassins get you in trouble the referee won't be able to step in and no one will be able to come out to help you.
 
Steve Keirn: Right, and the same thing goes for The Assassins themselves doesn't it Steve Stack? They said this wouldn't be over until someone gets hurt so that means we're going to have to hurt one of them before they hurt one of us so it seems to be they are in just as much danger as we are.
 
Steve Stack: I guess I can't argue that point. One more thing before you go, last week after your match we saw you try to unmask Assassin #2. Is unmasking The Assassins in your plans for this Sunday night?
 
Stan Lane: We didn't TRY to unmask Assassin #2 we DID unmask him! His partner just managed to hide his face before it got exposed to everyone in the HemisFair Arena. Our plan this Sunday night is to beat the hell out of The Assassins and get them out of our lives for good. If the opportunity presents itself somewhere in there to take their masks off then we just might take it but our major goal is to just get rid of The Assassins one way or another.
 
The Fabulous Ones leave the interview area and 'Gentleman' Jim Holliday comes in
 


Steve Stack: Mr. Holliday I'm sorry but you aren't on the format for any interview time today and we've got to get down to the ring now for our first match of the day as your client Mike Masters faces off against Mike Fever.
 
Holliday: I'm aware that you've kept me from having interview time on this program today but that's ok because I will have my voice heard because I'm going to stay here and do commentary on this match while Mike Masters destroys this poor sap Mike Fever.
 
Steve Stack: Alright well I don't have time to argue about that, let's head down to the ring now for our first match of the day!
 
 

Mike Fever vs. Mike Masters




Masters wants a test of strength to start the match but Mike Fever is very hesitant. Masters mocks him and finally goads him into the test of strength which Masters quickly gets the better of. Masters laughs as he has Fever down on his knees begging Masters to let him out of the test of strength so Masters just boots him in the chest and lets him fall to the mat. Masters struts around the ring and flexes while Jim Holliday rants on color commentary. Masters toys with Mike Fever for a bit before finally locking him into the Full Nelson and making him submit.

 
 
*During the match Jim Holliday was on color commentary and Steve Stack barely got a word in as Holliday ranted about Masters/Welch going to a time limit draw while Welch was caught in the Full Nelson, about how The Assassins have gotten another title match and how his team of Timothy Flowers & Goldie Rogers were instead stuck facing Pat Rose & Ron Sexton this Sunday to determine the #1 contender's for the Southwest Tag Team Titles
 
Holliday: He could have finished that match a long time ago Steve Stack but I told him to drag it out so I could have enough time here to say what needed to be said!
 
Jim Holliday leaves the interview area
 
Steve Stack: Well you certainly did say a lot while you were here, that's for sure. Fans we've got to take another commercial break but when we come back we're going to show you the footage of last Sunday night at the HemisFair Arena and how the Southwest Heavyweight Title changed hands twice so don't go away!
 
-Second commercial break-
 
Steve Stack: Welcome back to Southwest Championship Wrestling! Right now I'm going to play some highlights of the action involving the Southwest Heavyweight Title from last Sunday night at the HemisFair Arena.
 
Clips are shown of the two title matches from the 1/8 card, first showing clips of the David Von Erich/Tully match and then clips of the Saito/David Von Erich match with a heavy emphasis on the finishing that involved Tully Blanchard & Sunshine interfering and then some of the post match attack of David Von Erich by Tully Blanchard is also shown
Steve Stack: Fans now you've seen just how the Southwest Heavyweight Title changed hands twice in one night and now I'm going to bring out a man who was involved in all of it, the former Southwest Heavyweight Champion, Tully Blanchard.
 
Tully Blanchard and Sunshine come out to the interview area
 
Tully Blanchard: Before you say anything Steve Stack I just want all these people to know that I was robbed of my title! What that tape conveniently failed to show was how I ended up busted open and that's because David Von Erich hit me with the Southwest Heavyweight belt! He should have been disqualified but instead that crooked referee Carl Fergie just magically happened not to be looking when that took place.
 
Steve Stack: Unfortunately we didn't have time to show everything that happened last Sunday night but the only reason that title belt ended up in the ring is because YOU asked Sunshine to give it to you when Carl Fergie got knocked down.
 
Sunshine: Here you go again out here telling your lies Steve Stack! I would never interfere in one of Tully's matches because he doesn't need any help to win a match! Certainly not against someone like David Von Erich who has been sent to the hospital TWICE at the hands of the toughest man to ever come out of Texas, MY man Tully Blanchard.
 
Steve Stack: Well I'm certain we aren't going to come to an agreement about how that belt got in the ring so let me move on and ask just why you two ended up at ringside during the match between Mr. Saito and David Von Erich because we DID show that part on tape and it clearly showed both of you down at ringside including Sunshine getting into the ring and trying to hit David with her loaded purse.
 
Tully Blanchard: Like I just said, David stole that title from me. Do you really think I would let a man rob me and not retaliate? I had no other choice but to get involved in that match and make sure that he didn't leave the HemisFair Arena with stolen property. Now, Mr. Saito has no real claim to that title either considering he got it from a thief but that couldn't be helped. Sooner or later I'm going to have to get that belt back from Mr. Saito but right now my focus is on David Von Erich. David you said last week that you didn't think Texas was big enough for the both of us, well for once you're right. Texas isn't big enough for both of us and that's why I am going to run YOU out of Texas. Twice before I've caused you to be carried out of the HemisFair Arena on a stretcher. This Sunday night we've got another match and after it's over, you're going to get carried out on a stretcher again. And like they say, the third time is the charm because THIS time you WON'T be coming back!
 
Tully and Sunshine leave the interview area
 
Steve Stack: Well fans we're going to hear from David Von Erich later on in the program but right now my next guests are going to be involved in a Texas Tornado Street Fight this Sunday night so let me bring in now the former Southwest Tag Team Champions: The Assassins!
 
The Assassins come out to the interview area
 


 
Steve Stack: Gentlemen this Sunday night you're involved in a match where anything goes, where you will have your best chance yet on delivering on your threat of injuring The Fabulous Ones. What are your thoughts about being involved in the Texas Tornado Street Fight?
 
The Assassin: First of all Steve Stack I have not come out here and made any threats. Everything I have said about injuring The Fabulous Ones was a promise. The Assassins don't deal in threats, only in guarantees. As to your question, my thoughts are that a Texas Tornado Street Fight is the perfect match to seriously injure a man and end his career. The Fabulous Ones tried to come out here and bluff you earlier Steve Stack, saying that this match was just as much to their advantage as it was theirs but they could not be more wrong. The Assassins have a history of injuring people, when wrestling fans anywhere around the world see this mask on their television screens they know it means that someone is about to get seriously hurt. We've made that reputation on the bodies of many broken men. Do The Fabulous Ones have that same kind of reputation? Have they ever ended a man's career? Have they ever had a man screaming and begging for mercy and then listened to the sounds of his bones break as his pleas were denied? No Steve Stack, no they have not. For all their tough talk, I don't think they have the guts to do that kind of work, not many men do and that's why there are only two men who wear the masks of the Assassins in professional wrestling.
 
Now one last thing I need to address here on television today. Last Sunday night, The Fabulous Ones tried to expose my partner. They took the mask off his head and tried to reveal his identity to the world. Luckily I was able to cover his face before anyone could see who he is but this kind of transgression can not go unpunished. These masks mean absolutely everything to us and no one and I mean NO ONE can be allowed to try and take them from us and not face the repercussions. Now Stan Lane, Steve Keirn, I've already come out here and promised that one or both of you are going to have your careers ended at our hands so there's really not much more I can say that I didn't already say. Except this: previously our issue with you was just business. Our business is injuring people and you made it our business to do that to you. But now since you've put your hands on these masks, since you've tried to expose one of us, you've made this personal. So now instead of just ending your careers, I'm not going to stop there. I'm going to make sure that we end your career in a way that not just impacts your livelihood but your quality of life. I am going to injure you in a way that you won't be able to spend one single moment of the rest of your lives without pain, without knowing who it is that you have to thank for that pain. And you will spend every moment of however long you have left in this world knowing that the greatest mistake of your life was to ever try and unmask one of The Assassins.
 
The Assassins leave the interview area
 
Steve Stack: Fans I've been in the wrestling business a long time, I've stood here and interviewed over a hundred wrestlers in my day but I'm not sure anyone has ever scared me as much as that man The Assassin. I hope for The Fabulous Ones' sake that he is not as capable of injuring them as he just sounded right now. We've got to take a time out for our sponsors and when we come back I've been informed that we've got another video message from Sheik Adnan al-Kaissie and then I'm sure we'll be hearing a response from Jim Duggan & Ron Starr so don't go away, we'll be right back with more Southwest Championship Wrestling!
 
-Third commercial break-
 


 
Steve Stack: We're back on Southwest Championship Wrestling and we were scheduled to show a tape paid for by Sheik Adnan al-Kaissie but apparently there are some technical difficulties with that tape so instead we're going to talk to 'Hacksaw' Jim Duggan and 'Rugged' Ron Starr and hope we can get things sorted out with the tape in the mean time.
 
Duggan: Don't you worry about that video Steve Stack, there weren't any technical difficulties I went to the producer and asked him to show me the video that Geek Adnan sent in and when it was over I ripped all the tape out of it! I'm sick and tired of the people here having to listen to what that slimy jerk has to say about me, my country and my fans! I can sum up the tape for you if you want though, Geek Adnan found two more goons to come in here and fight me and Ron Starr this Sunday night so if you like seeing us beat people up then buy your tickets because this Sunday we're gonna be beating up Ken Patera and the One Man Gang!
 
Steve Stack: Ken Patera and the One Man Gang? Now I'm not doubting your abilities but Ken Patera is one of the strongest men in the world, he competed in the weightlifting competitions in the 1972 Olympic games and One Man Gang is 6'9 and weighs almost 450 pounds!
 
Duggan: Big deal Steve Stack! I don't care about Ken Patera's weightlifting because the thing about pushing around those weights is they don't push back and the Hacksaw does! As for One Man Gang, yea I know he's a big guy but I've fought plenty of big guys before and I've proven that the old saying is true, the bigger they are, the harder they fall.
 
Steve Stack: Well I'm sure we're going to find out if that holds true for the One Man Gang this Sunday night. Before we get to that tag match this Sunday night however, Ron Starr you've got a rematch here on TV today for the Southwest Television Title taking on the champion Roy Lee Welch. Last week you were blindsided by The Wild Bills, are you worried about the possibility of One Man Gang and/or Ken Patera doing the same thing this week?
 
Ron Starr: Am I worried about it? No, I'm not worried. I'm aware of the fact that it's a possibility but this week I'm going to have Jim Duggan at ringside watching my back to make sure no one catches me by surprise like The Wild Bills did. As for the champion Roy Lee Welch, I respect him. I've known him for a long time, I'm from Alabama and I started my wrestling career there and I think everyone knows Roy is from the Alabama area as well. I've competed against Roy many times and I know he's a great competitor. But I came out here a few weeks ago and told everybody I wanted to take that TV Title and my plan is to leave The Junction here today with it in my possession.
 
Steve Stack: Well gentlemen I wish you luck in your seemingly never ending war against Sheik Adnan al-Kaissie, right now I've got to bring in my next guest on the program, the Yellow Rose of Texas, David Von Erich!
 
Jim Duggan and Ron Starr leave the interview area as David Von Erich comes in and Jim Duggan bumps into David as he's leaving and David stares at him as he walks off
 


 
Steve Stack: It would appear that Jim Duggan has not forgiven you for the run-ins between you in the past.
 
David Von Erich: I don't really care about what Jim Duggan thinks about me to be honest with you Steve Stack, I've got a lot bigger things on my mind. You showed the people the tape earlier on the show, everyone saw how I won the Southwest Heavyweight Title fair and square from Tully Blanchard and then how he and that witch he runs around helped Mr. Saito steal it from me. As far as I'm concerned I'm the rightful Southwest Heavyweight Champion and I should have gotten a rematch for the belt before anyone else. But I'll have time to take care of that later. Right now my main objective is to do the one thing I've been wanting to do ever since Tully Blanchard slammed that cage door on my head. And that's get rid of Tully Blanchard from Texas, if not all of professional wrestling. Tully you came out here and bragged earlier about how you've had me carried out on a stretcher twice before and brother that's true. But just like the old saying goes, what goes around comes around and this Sunday night it's going to be YOUR turn to get carried out and for that witch of yours to be screaming and crying over you as they wheel you out of the HemisFair Arena!
 
David Von Erich leaves the interview area
 
Steve Stack: Well fans I hate to see anyone get injured but with Tully and David both talking about causing the other to get carried out on a stretcher I can only imagine what's going to take place when those two collide this Sunday night at the HemisFair Arena. But right now my next two guests are NOT involved in any scheduled matches coming up at the HemisFair Arena this Sunday night or otherwise. They are two men who have both talked about retiring from the sport of professional wrestling in the past few weeks and I've had to spend a lot of time on the phone to make this happen but I've got them both here in The Junction today to try and talk out their problems and hopefully get them back in the ring here in Southwest Championship Wrestling. So now let me welcome out here Ken Lucas and Eddie Gilbert.
 
Ken Lucas and Eddie Gilbert come to the interview area from opposite sides
 


 
Steve Stack: First off let me just thank you both for being on the program. I know you two haven't talked to each other since what happened on the night of December 18th so let's go back to what happened that night and -
 
Eddie Gilbert: Not to interrupt you Steve Stack but I think everyone here knows what happened that night and I really don't want to go back and rehash it all over again.
 
Steve Stack: Well alright Eddie if you don't want to then -
 
Ken Lucas: Hold on a minute Steve Stack I think we at least owe it to the fans and especially to Ricky Morton to mention the fact that he had his career ended by Eddie Gilbert that night and that's what this is all about.
 
Eddie Gilbert: Steve Stack didn't I just say I didn't want to go back and rehash that? I apologized for that on the video I sent in last week, I tried to call Ricky Morton and apologize to him but he wouldn't take my call, I've apologized for what happened that night and I didn't come here today to beat a dead horse.
 
Ken Lucas: Beat a dead horse? You apologized? You think apologizing for piledriving a man on concrete and ending his career makes it all better?
 
Eddie Gilbert: I didn't say it makes it better but neither does coming out here and talking about it over and over. It happened. I've already said I was going to retire from wrestling because I was sorry for what I did, I didn't know I was coming here to talk about it again or I wouldn't be here.
 
Ken Lucas: Well if you didn't want to talk about Ricky Morton why did you come here today?
 
Eddie Gilbert: I was told you had something you wanted to say to me and that's the only reason I came all the way back here to Texas from Memphis, TN. I thought you were going to apologize to me.
 
Ken Lucas: Me apologize to you!? What do I have to apologize for Eddie!?
 
Eddie Gilbert: I thought you were going to apologize for how we lost the match on December 18th that ended our partnership. I thought you were going to apologize for running around the ring after Yang instead of coming in the ring to break up Yin's pin on me. I thought you were going to apologize for embarrassing me by taking Ricky Morton's side when I was arguing with him about how he was stealing our chance to face the Southwest Tag Team Champions. I thought you were going to apologize for everything that happened being your fault.
 
Ken Lucas: My fault?! My fault!? You're blaming this all on me!?
 
Ken Lucas suddenly lunges at Eddie Gilbert and grabs him by the throat
 
Steve Stack: Hey! Ken calm down! That's not what this is supposed to be! We need some help out here!
 
Ken Lucas starts slapping Eddie Gilbert around when Larry Hamilton, Steve Pardee, Mike Jackson, Tony Torres, Carl Fergie and Jack Howe run out to the interview area and pull him off. Eddie Gilbert storms away from the interview area as everyone tries to calm Ken Lucas down
 
Steve Stack: Fans I don't know what to say about what just happened here, this was not at all what I expected when I brought Ken Lucas and Eddie Gilbert on the program to talk to each other. We're going to take a break and try and get things calmed down here in The Junction, we'll be right back.
 
-Fourth commercial break-
 


 
Steve Stack: We're back on Southwest Championship Wrestling and with me now is -
 
Mr. Saito: You be quiet Steve Stack, I tell the people who I am. I Mr. Saito your new Southwest Champion and I very happy today. No just because I'm the new champion but really was very funny to me to watch what just happened here. Make Saito laugh very much to see Ken Lucas slapping Eddie Gilbert.
 
Steve Stack: Well that's just great Mr. Saito, I'm glad you can take such pleasure in the misery of others but that's not what you're here on the program to talk about today.
 
Mr. Saito: Hey I the champion, I talk about what I want! You need show me proper respect Steve Stack, when Saito come out here you need bow to the champion!
 
Steve Stack: I'll remember that for next time but I'd like to ask you about your match with El Gran Apollo this Sunday night and your thoughts on having to face him again after he defeated you last week.
 
Mr. Saito: He didn't defeat nobody! You need show the tape so everyone can see how the referee count so slow for Mr. Saito and so fast for El Gran Apollo! I put him on his head with Saito Suplex and everyone know nobody get up when I do Saito Suplex but the referee count so slow that somehow Apollo kick out! Then I argue with the referee to try teach him how to count and I turn around and Apollo do a small package to me and referee make a fast count and I lose! I don't wrestle again this week with same referee, I don't want Jack Howe be the referee for my match against Apollo! I don't know why he hate Saito, maybe he hate Japanese people because we are better, but I the champion now and I say he can not be the referee for my match!
 
Steve Stack: First of all I know that Jack Howe's counts are always consistent including the ones from your match against El Gran Apollo last week. I also don't think it says anything in the rulebook about the Southwest Heavyweight Champion being allowed to pick his own referee, you're going to have to take that up with Stanley Blackburn.
 
Mr. Saito: I don't care about Stanley Blackburn! I tell you right now I don't wrestle this Sunday if Jack Howe is referee!
 
Steve Stack: You've spent this entire interview talking about Jack Howe, I wanted to talk to you about your opponent -
 
Mr. Saito: I don't have nothing to say about El Gran Apollo! He can't beat Saito! He never beat Saito! This Sunday when I hit Saito Suplex on him he don't kick out and Saito prove he is number one wrestler in Southwest, number one wrestler in the world!
 
Mr. Saito storms out of the interview area
 
Steve Stack: One thing is clear, Mr. Saito is not at all happy about his loss to El Gran Apollo last week and I have a feeling he is going to do everything he can to avenge it this Sunday night with the Southwest Heavyweight Title now on the line. But El Gran Apollo certainly showed he is not a man to take lightly as he's the only person I've ever seen who was able to kick out of the Saito Suplex and let me assure everyone who was not in the HemisFair Arena that is was NOT due to a fast count. Anyway, we've got to take our last commercial break of the program and when we come back we are going to have Southwest Television Title match between Ron Starr and Roy Lee Welch! Hopefully this time there won't be anyone running out to ruin the match so don't go away, we'll be right back!
 
-Fifth and final commercial break-
 


 
Steve Stack: Welcome back to Southwest Championship Wrestling! With me now is the Southwest Television champion, Roy Lee Welch! Roy it's good to talk to you again, we didn't have a chance to talk last week and the week before you were in Alabama for your National Title match against Tommy Rich.
 
Welch: Well thank you for giving me this little bit of time before my match here, I just wanted to thank the fans for the support they gave me before I went off to wrestle for the National Title and I'm sorry I couldn't bring it back here to Texas for them but I know I'll get another chance.
 
Steve Stack: I'm sure you will Roy, we don't have much time so just let me ask you real quick about your opponent here today, Ron Starr, and your thoughts on defending the Southwest Television Title against him?
 
Welch: Well like Ron said out here earlier he and I know each other pretty well from both coming up in Alabama and we've wrestled each other quite a few times. Some of the times I beat Ron and some of the times he beat me, I think we're pretty evenly matched as wrestlers and I have a lot of respect for him. But I plan to keep this Southwest TV Title here today and if I do then I plan to keep it Sunday night against Mike Masters.
 
Steve Stack: Well Roy I wish we had a little more time to talk, especially about Mike Masters but right now you've got to head to the ring before your match, it was great to talk to you again!
 
Welch: It was great to talk to you too Steve, thank you for the time.
 
Roy heads down to the ring where Ron Starr is already waiting in the ring and Jim Duggan is standing guard at ringside
 
 

'Rugged' Ron Starr vs. Roy Lee Welch - Southwest Television Title Match




Ron Starr and Roy Lee Welch shake hands after the bell and then start a slow feeling out process against each other. Both men seem to be familiar with each other and know how the other likes to wrestle. They exchange holds for a bit with neither man able to gain a definitive advantage until Ron Starr breaks out of an arm bar with a big forearm that upsets Roy Lee Welch. Ron Starr argues that it was a forearm and not a closed fist and Roy Lee Welch answers back with a forearm of his own and things quickly turn into a fight where fists replace forearms. Referee Carl Fergie gets in between the two men and gets them to open their fists back up but both men are now far more aggressive than they were in the opening moments of the match. After some jockeying for position, Ron Starr shoots Roy Lee Welch into the ropes and drops his head for a back body drop but Welch vaults over him and then catches him with a big dropkick when he pops his head back up and turns around. Welch quickly tries to put on the Spinning Toe Hold but Ron Starr kicks Welch off and Welch goes flying backwards through the ropes and out of the ring. Ron Starr starts to go out after him when suddenly Mike Masters runs down to ringside from the opposite direction. Jim Duggan quickly cuts off Mike Masters from getting in the ring and their war of words quickly turns into a fight! Ron Starr hears the commotion and turns around to see what's going on and Roy Lee Welch gets back up on the outside and seeing Ron Starr's back to him, Roy slides into the ring and quickly rolls Ron Starr up and gets a 3 count!
Mike Masters quickly retreats from the fists of Jim Duggan after he hears the bell ring and runs back to the locker room as Ron Starr gets into a shouting match with Roy Lee Welch inside the ring
Steve Stack: What an unfortunate way for that match to end! Ron Starr and Roy Lee Welch were having a great match until Mike Masters caused a distraction and honestly I'm surprised at the way Roy Lee Welch took advantage of it, I'm not sure if he knew why Ron Starr had his back turned to him. Well we're just about out of time on today's program, don't forget to get your tickets for this Sunday night at The HemisFair Arena as Mr. Saito defends the Southwest Heavyweight Title against El Gran Apollo, The Fabulous Ones defend the Southwest Tag Team Titles in a Texas Tornado Street Fight against The Assassins, David Von Erich takes on Tully Blanchard, Jim Duggan & Ron Starr battle Ken Patera and the One Man Gang and much more! And be sure to join us next week for more of the most exciting hour in all of professional wrestling, right here on Southwest Championship Wrestling!
 
Scheduled for Sunday, January 15th at the HemisFair Arena in San Antonio, TX
Texas Tornado Street Fight for the Southwest Tag Team Titles: The Assassins vs. The Fabulous Ones
Tully Blanchard w/Sunshine vs. David Von Erich
Jim Duggan & Ron Starr vs. Ken Patera and One Man Gang
Southwest Heavyweight Title: El Gran Apollo vs. Mr. Saito
Pat Rose & Ron Sexton vs. Goldie Rogers & Timothy Flowers w/Jim Holliday
Southwest Television Title: Mike Masters w/Jim Holliday vs. Roy Lee Welch
Larry Hamilton & Steve Pardee vs. Man Mountain Link and Tiny Anderson