August 24, 1995
It's been three months since Shoice Arai took over as president of FMW. With that move and with the retirement of Atsushi Onita, FMW has started to lose it's edge. It's hard to believe that on May 5th, FMW ran it's largest show in front of 58,250 fans at Kawasaki Stadium. The new generation of FMW took over on the next tour, led by stars like Hayabusa, Masato Tanaka and The Gladiator.
To make matters worse, the FMW World Brass Knuckles Heavyweight Championship is vacant. After Onita retired, the title was vacated, but since then Hayabusa became champion. However, he was forced to vacate the title on June 27th, the same night he won it. Here we are, two months later, and the title is still vacant.
The last few months can not be considered as transition period, as things are changing and the second great era of FMW has began with the hiring of Grimmas the FMW match maker. This ended Arai's idea of running a more sports entertainment style of promotion. From here on FMW will be the home of all wrestling styles. From the classic FMW death matches, to great technical wrestling, to high flyers, to lucha libre, to shoot style, to joshi, in FMW you will see it all.
With FMW's new focus, there has been a challenge changeover. FMW has kept on the talented: Hayabusa, Masato Tanaka, The Gladiator, Hisakatsu Oya, Ricky Fuji, Super Leather, Mitsuharu Matsunaga, Koji Nakagawa, Katsutoshi Niiyama, W*ING Kanemura, Horace Boulder, Megumi Kudo, Combat Toyoda, Crusher Maedomori, Shark Tuchiya, and Miwa Saito. On top of that great talent, FMW will bring back former FMW stars in Mr. Gannosuke, Sabu, and Terry Funk.
If that wasn't enough, FMW has scoured the world to bring you fresh new talent in the form of:
Big Boss Man, Jinsei Shinzaki, Daisuke Ikdea, La Parka, Hanzo Nakajima, Yuji Yasuraoaka, Takako Inoue, Mayumi Ozaki, and Chigusa Nagayo.
With all of this talent the next tour from September 14th to 26th will be huge. Over the whole tour their will be an eight man round robin tournament with the winner becoming the new FMW World Brass Knuckles Heavyweight Champion.
Competing in this FMW Grand Slam will be: 
Hayabusa
Masato Tanaka
The Gladiator
Terry Funk
Sabu
Big Boss Man
Mr. Gannosuke
Jinsei Shinzaki
Whoever can survive this grueling Grand Slam will truly be worthy of champion. With the new leadership in FMW, rules will now be enforced with twenty counts on the floor and disqualifications in place. However, all of these rules will be waved in every Brass Knuckles Title match as well as in this tournament. Select matches will also have special stipulations, to be announced soon.
There will be a press conference on September 13th before the tour stars with all the talent from FMW. Including Damian 666 from Mexico, The mysterious Headhunters, and WWF Women's Champion Monster Ripper, who will be on the upcoming tour.
Stay tuned for future announcements regarding FMW and this tour in this very thread, as a new day has arrived! All of this talent is ready to prove themselves and you don't want to miss a moment of it.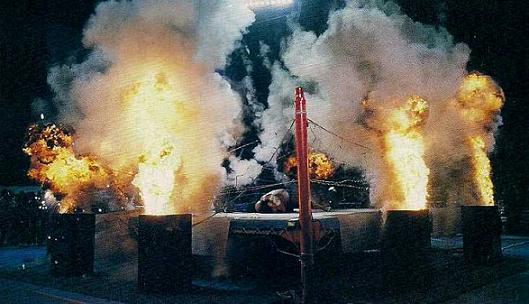 Upcoming tour schedule: 
9/14 FMW Grand Slam, Night 1 @ Maebashi Gym in Maebashi, Gunma, Japan
*FMW Grand Slam Brass Knuckles Championship Round Robin Tournament: Hayabusa vs The Gladiator
*FMW Grand Slam Brass Knuckles Championship Round Robin Tournament: Terry Funk vs Jinsei Shinzaki
*FMW Grand Slam Brass Knuckles Championship Round Robin Tournament: Big Boss Man vs Mr. Gannosuke
9/16 FMW Grand Slam, Night 2 @ City Gym in Nankoku, Kochi, Japan
*FMW Grand Slam Brass Knuckles Championship Round Robin Tournament: Sabu vs Terry Funk
*FMW Grand Slam Brass Knuckles Championship Round Robin Tournament: Hayabusa vs Big Boss Man
*FMW Grand Slam Brass Knuckles Championship Round Robin Tournament: The Gladiator vs Mr. Gannosuke
9/17 FMW Grand Slam, Night 3 @ Kasihara Gym in Kasihara, Nara, Japan 
*FMW Grand Slam Brass Knuckles Championship Round Robin Tournament: Sabu vs Jinsei Shinzaki
*FMW Grand Slam Brass Knuckles Championship Round Robin Tournament: Terry Funk vs Hayabusa
*FMW Grand Slam Brass Knuckles Championship Round Robin Tournament: Masato Tanaka vs Mr. Gannosuke
9/18 FMW Grand Slam, Night 4 @ City Gym in Izumo, Shimane, Japan
*FMW Grand Slam Brass Knuckles Championship Round Robin Tournament: Masato Tanaka vs Big Boss Man
*FMW Grand Slam Brass Knuckles Championship Round Robin Tournament: The Gladiator vs Jinsei Shinzaki
*FMW Grand Slam Brass Knuckles Championship Round Robin Tournament: Sabu vs Mr. Gannosuke
9/19 FMW Grand Slam, Night 5 @ Niimi Gym in Niimi, Okayama, Japan
*FMW Grand Slam Brass Knuckles Championship Round Robin Tournament: Sabu vs Masato Tanaka
*FMW Grand Slam Brass Knuckles Championship Round Robin Tournament: Big Boss Man vs Jinsei Shinzaki
*FMW Grand Slam Brass Knuckles Championship Round Robin Tournament: Hayabusa vs Mr. Gannosuke
9/20 FMW Grand Slam, Night 6 @ City Gym in Marugame, Kawgawa, Japan
*FMW Grand Slam Brass Knuckles Championship Round Robin Tournament: Terry Funk vs The Gladiator
*FMW Grand Slam Brass Knuckles Championship Round Robin Tournament: Hayabusa vs Masato Tanaka
*FMW Grand Slam Brass Knuckles Championship Round Robin Tournament: Sabu vs Big Boss Man
9/21 FMW Grand Slam, Night 7 @ Saijo City Gym in Saijo, Ehima, Japan
*FMW Grand Slam Brass Knuckles Championship Round Robin Tournament: Sabu vs The Gladiator
*FMW Grand Slam Brass Knuckles Championship Round Robin Tournament: Terry Funk vs Mr. Gannosuke
*FMW Grand Slam Brass Knuckles Championship Round Robin Tournament: Hayabusa vs Jinsei Shinzaki
9/23 FMW Grand Slam, Night 8 @ Nakamura Sports Center in Nakamura, Kochi, Japan
*FMW Grand Slam Brass Knuckles Championship Round Robin Tournament: Masato Tanaka vs Jinsei Shinzaki
*FMW Grand Slam Brass Knuckles Championship Round Robin Tournament: Terry Funk vs Masato Tanaka
*FMW Grand Slam Brass Knuckles Championship Round Robin Tournament: The Gladiator vs Big Boss Man
9/24 FMW Grand Slam, Night 9 @ Hachioji Civic Hall in Tokyo, Japan
*FMW Grand Slam Brass Knuckles Championship Round Robin Tournament: Sabu vs Hayabusa
*FMW Grand Slam Brass Knuckles Championship Round Robin Tournament: Terry Funk vs Big Boss Man
*FMW Grand Slam Brass Knuckles Championship Round Robin Tournament: The Gladiator vs Masato Tanaka
*FMW Grand Slam Brass Knuckles Championship Round Robin Tournament: Mr. Gannosuke vs Jinsei Shinzaki
9/26 FMW Grand Slam, Night 10 @ Korakuen Hall in Tokyo, Japan
*FMW Grand Slam Brass Knuckles Championship Round Robin Tournament Finals: